Black Leather Look Tub Sofa for Home, Office or Reception Areas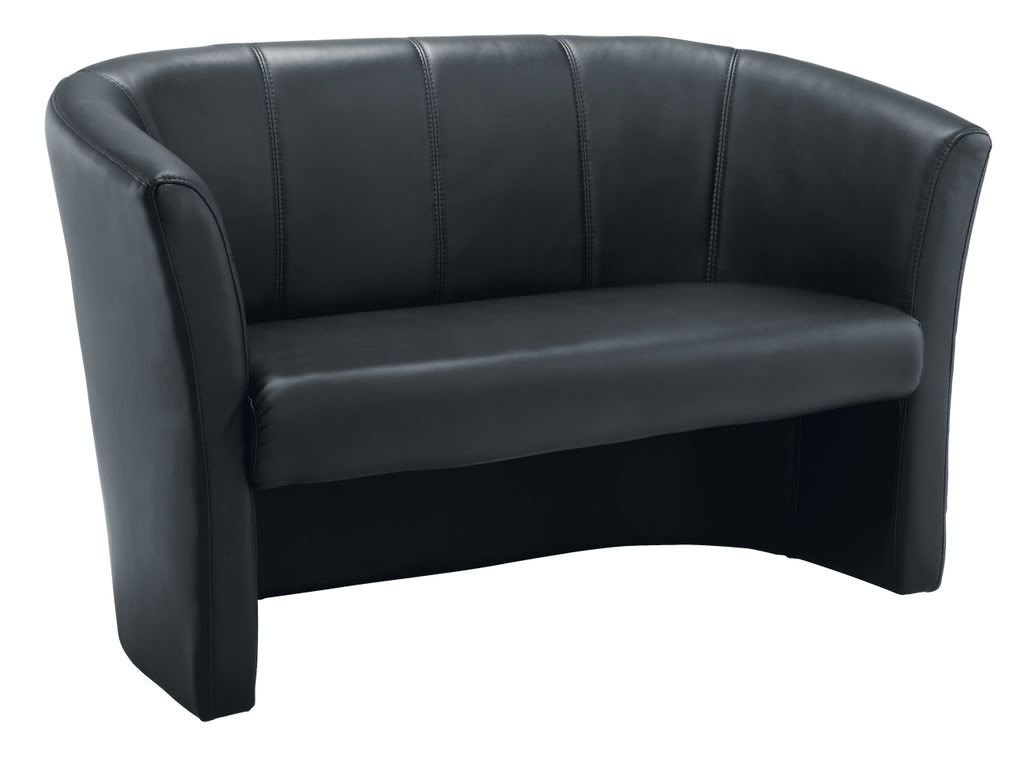 Price Excludes VAT and 'NEXT DAY' Delivery(if ordered before midday) is FREE
Make an impression and put your visitors at ease with this Classically styled reception tub Sofa,(Matching chair available).
The deep cushioned leather look sofa and back are supportave yet hardwearing, perfect for busy reception and communal areas, that will stay looking smart.
Fully upholstered in Leather Look material.
Also available in Pyra fabric with a choice of two colours.
Stylish and modern
Ideal for reception areas and meeting rooms
Supportive and hard-wearing
Deep cushioned seat and back for maximum comfort.
Dimensions:
Seat : (d) 490x (w) 990 x (h) 460mm
Back: (h) 390 x (w) 1050mm.
Available in stock now for delivery tomorrow...
---
For Terms and Conditions Click Below:
We Also Sell All Other Types Of Office Chairs, Exhibition Equipment, Office Desks…….
Executive Office Chairs, High Back Office Chairs, Task Office Chairs, Heavy Duty Office Chairs, Leather Office Chairs, Mesh Office Chairs,
24hr Office Chairs, Upholstered Office Chairs, Quality Office Chairs, Cheap Office Chairs, Cheapest Chairs On-Line, Ergonomic Office
Chairs, Ergo human Office Chairs, Mirage Office Chairs, Cushioned Office Chairs, Black Office Chairs, Cream Office Chairs, Conference
Chairs, Executive Office Chairs, Visitors Chairs, Leather Office Chairs, Fabric Office Chairs, Cobham Mesh Office Chairs, Room Dividers,
Office Screens, Exhibition Equipment, Av, Screen, Mesh, Cobham, Conference, Cobham Office Chair, Massage Chairs, Glass
Workstations, Office Desks, Traditional Chairs, Visitor Chairs, Stacking Chairs, Concertina Screens, Nyloop Screens, Wool Mix Screens,
Tripod Projector Screens, Wall Screens, Tub Chairs, Tub Sofas, Draughting Stools, Kneeling Chairs, Designer Chairs, Managers Chairs,
Manager, Kensington, Richmond, Knightsbridge, Lombard, Windsor, Henley, Chesterfield Study Chair, Nevada Executive Chair, Baccarat,
Torque Office Mesh Chairs, Orbit, Cheetah Office Chair, Panther Office Chair, Marathon, Club Stacking Chairs, Iso Stacking Chair,
Essentials Furniture Range, Supreme Furniture Range, Cafe Bistro Chairs, Bistro Tables, Aluminium Chair And Tables, Outdoor Furniture,
Office Furniture Online, Padded Office Chair, Padded Office Chairs, Cantilever Chairs, Cantilever Office Chairs,