Brunswick Cantilever Executive Elegant Meeting Office Chair
RRP
£60.72
Ex VAT ....
£73.50
You Save:
-£12.78
A savings of: -21%
A new eye-cathing contempory conference and meeting chair. This versatile chair will match many of our executive and task chairs to create a complete modern look.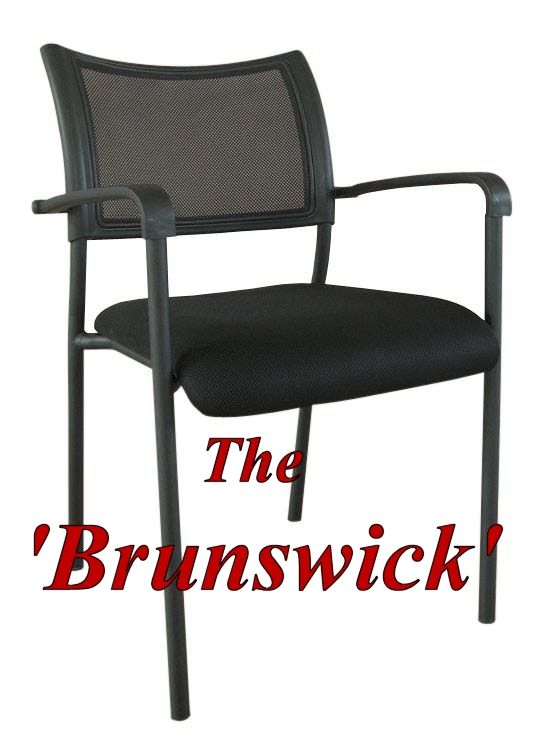 Price Excludes VAT and includes...
Free Nextday Delivery !
Compare our price for this chair, we are confident you will not find it cheaper, If you do we will beat that price if we can
Features
For office or home office use

.
Heavy duty light weight frame
Padded mesh cloth seat
Soft curved mesh back
Polyurethane armrests
Stacks 10 high
Available in black or chrome frame. (select at checkout)
Dimensions: (mm)
Seat Width 460, overall 530
Seat Depth 460, overall 560
Back Height 380 , overall 820
Back Width 450
Seat height : 470
People who bought this also looked at this....

Up to 8 Hours (General Use):
These products are designed for use up to approximately 8 hours per day within normal office environments..
Additional info:
While every effort is made to ensure the images used to sell the item accurately reflect the item advertised, it is not always possible to ensure the item received will identically match the images we use. This is due to the differing nature of colour schemes and monitors used by individuals viewing the item(s) on line. To get around this we offer a

FREE

service to supply a colour swatch of the fabric you require before you purchase. Please ensure you take full advantage of this service as we cannot accept back items due to the item not being the colour you expected. Just contact us for details

Terms and Conditions

(for this item)
We Also Sell All Other Types Of Office Chairs, Exhibition Equipment, Office Desks…….
Executive Office Chairs, High Back Office Chairs, Task Office Chairs, Heavy Duty Office Chairs, Leather Office Chairs, Mesh Office Chairs, 24hr Office Chairs, Upholstered Office Chairs, Quality Office Chairs, Cheap Office Chairs, Cheapest Chairs On-Line, Ergonomic Office Chairs, Ergo human Office Chairs, Mirage Office Chairs, Cushioned Office Chairs, Black Office Chairs, Cream Office Chairs, Conference Chairs, Executive Office Chairs, Visitors Chairs, Leather Office Chairs, Fabric Office Chairs, Cobham Mesh Office Chairs, Room Dividers, Office Screens, Exhibition Equipment, Av, Screen, Mesh, Cobham, Conference, Cobham Office Chair, Massage Chairs, Glass Workstations, Office Desks, Traditional Chairs, Visitor Chairs, Stacking Chairs, Concertina Screens, Nyloop Screens, Wool Mix Screens, Tripod Projector Screens, Wall Screens, Tub Chairs, Tub Sofas, Draughting Stools, Kneeling Chairs, Designer Chairs, Managers Chairs, Manager, Kensington, Richmond, Knightsbridge, Lombard, Windsor, Henley, Chesterfield Study Chair, Nevada Executive Chair, Baccarat, Torque Office Mesh Chairs, Orbit, Cheetah Office Chair, Panther Office Chair, Marathon, Club Stacking Chairs, Iso Stacking Chair, Essentials Furniture Range, Supreme Furniture Range, Cafe Bistro Chairs, Bistro Tables, Aluminium Chair And Tables, Outdoor Furniture, Office Furniture Online, Padded Office Chair, Padded Office Chairs, Cantilever Chairs, Cantilever Office Chairs,