French Gardens Corner Desk Workstation (2516141)
A superb addition to our French Gardens Range, ideal for that area.web id 2516141.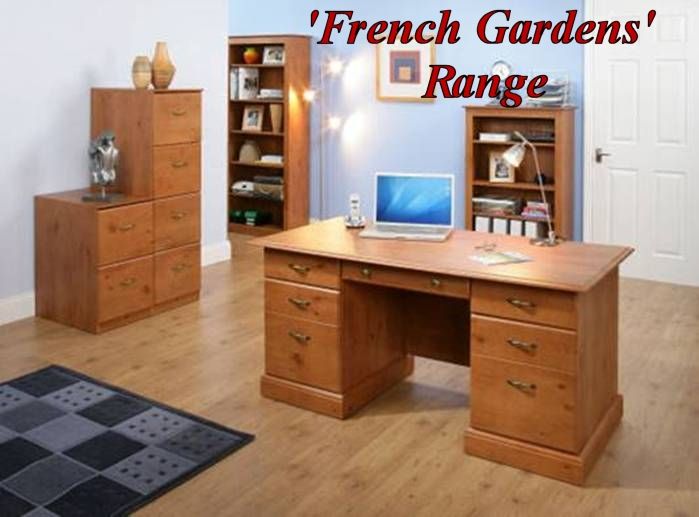 Price Excludes vat and includes...
Free 7-10 Day 2 MAN Delivery !
From our 'WORKSTATION' range
Traditional design corner desk
Solid build
Integrated shelving for maximum space saving
Formed edging for style and comfort
Elevated monitor stand
Width (overall) : 86 cm
Depth (overall) : 86 cm
Height (overall) : 87 cm
Front Width: 78 cm
Carton Size: 890 x 890 x 90cm
Gross Weight : 26 kg
Related Downloads
REMEMBER! We aim to beat any on line price for this item...

We Also Sell All Other Types Of Office Chairs, Exhibition Equipment, Office Desks…….
Executive Office Chairs, High Back Office Chairs, Task Office Chairs, Heavy Duty Office Chairs, Leather Office Chairs, Mesh Office Chairs, 24hr Office Chairs, Upholstered Office Chairs, Quality Office Chairs, Cheap Office Chairs, Cheapest Chairs On-Line, Ergonomic Office Chairs, Ergo human Office Chairs, Mirage Office Chairs, Cushioned Office Chairs, Black Office Chairs, Cream Office Chairs, Conference Chairs, Executive Office Chairs, Visitors Chairs, Leather Office Chairs, Fabric Office Chairs, Cobham Mesh Office Chairs, Room Dividers, Office Screens, Exhibition Equipment, Av, Screen, Mesh, Cobham, Conference, Cobham Office Chair, Massage Chairs, Glass Workstations, Office Desks, Traditional Chairs, Visitor Chairs, Stacking Chairs, Concertina Screens, Nyloop Screens, Wool Mix Screens, Tripod Projector Screens, Wall Screens, Tub Chairs, Tub Sofas, Draughting Stools, Kneeling Chairs, Designer Chairs, Managers Chairs, Manager, Kensington, Richmond, Knightsbridge, Lombard, Windsor, Henley, Chesterfield Study Chair, Nevada Executive Chair, Baccarat, Torque Office Mesh Chairs, Orbit, Cheetah Office Chair, Panther Office Chair, Marathon, Club Stacking Chairs, Iso Stacking Chair, Essentials Furniture Range, Supreme Furniture Range, Cafe Bistro Chairs, Bistro Tables, Aluminium Chair And Tables, Outdoor Furniture, Office Furniture Online, Padded Office Chair, Padded Office Chairs, Cantilever Chairs, Cantilever Office Chairs,