Torque 2 High Back Managers Office Chair CH0739
RRP
£323.50
Ex VAT ....
£169.99
You Save:
£153.51
A savings of: 47%
Quality mesh office chair, known on the web as either the fulkrum or the torque, it is available either with a fabric or leather seat. product id ch0739. We are the cheapest on-line for this chair, check for your self!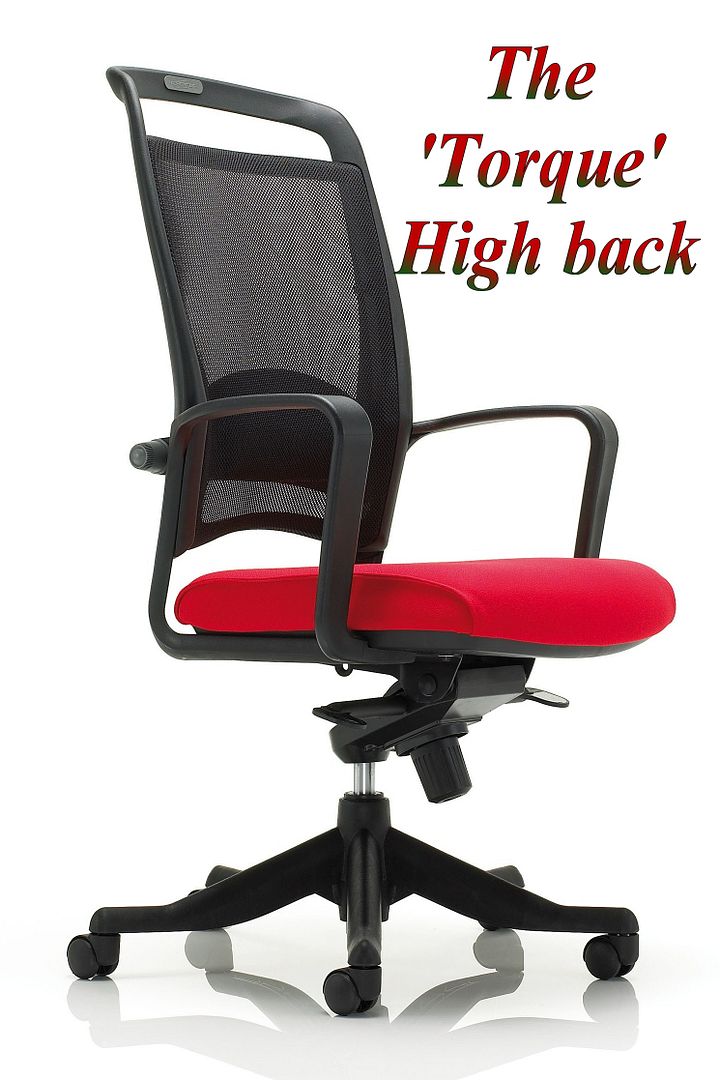 Price Excludes VAT and includes...
Free Nextday Delivery !
From our ' MESH' range.
PLEASE COMPARE OUR PRICES! WE ARE THE CHEAPEST!
PLEASE NOTE THE LEATHER VERSION IS AVAILABLE ON NEXT DAY BUT THE FABRIC HAS A TWO WEEK LEAD TIME
Depth = 46cm

Back Width = 48cm

Back Height = 62cm

Seat Height = 48-55cm

Hard wearing pyra Fabric seat with breathable mesh back

Leather seat available, (select from drop down menu)

Complementing Executive operator chair

Breathable low mesh backrest with black polycarbonate backrest outer

Anatomically-shaped seat with moulded foam and under-seat shell

Moulded black poly-propylene arm caps for user comfort

5 Year component guarantee
.
Where indicated throughout our website you now have the option of an unlimited choice of fabrics as a optional chargeable extra.
We offer:
• Any available colour or range of fabrics
• A wide range of models upholstered to your requirements
• 10 day lead times (subject to fabric availability)
• Highly competitive prices contact us for details
Click here to view the full Camira fabric range and click here to view the full Bradbury fabric range
Knee-tilt mechanism 5
A twin-lever mechanism, the right lever allows you to adjust the seat height up and down and the left lever can be used either to lock the chair in any one of three or five positions (lockable positions indicated by number shown) or can be left to tilt with the user. The pivot point is found towards the front of the seat so that your feet remain on the floor when tilting backwards. A torsion control knob can be adjusted to user body weight and a non-return facility prevents the user from being thrown forward when the mechanism is unlocked.


Up to 8 Hours

(General Use):

These products are designed for use up to approximately 8 hours per day within normal office environments upto a weight of 22st.

While every effort is made to ensure the images used to sell the item accurately reflect the item advertised, it is not always possible to ensure the item received will identically match the images we use. This is due to the differing nature of colour schemes and monitors used by individuals viewing the item(s) on line. To get around this we offer a

FREE

service to supply a colour swatch of the fabric you require before you purchase. Please ensure you take full advantage of this service as we cannot accept back items due to the item not being the colour you expected. Just contact us for details
---
We Also Sell All Other Types Of Office Chairs, Exhibition Equipment, Office Desks…….
Executive Office Chairs, High Back Office Chairs, Task Office Chairs, Heavy Duty Office Chairs, Leather Office Chairs, Mesh Office Chairs, 24hr Office Chairs, Upholstered Office Chairs, Quality Office Chairs, Cheap Office Chairs, Cheapest Chairs On-Line, Ergonomic Office Chairs, Ergo human Office Chairs, Mirage Office Chairs, Cushioned Office Chairs, Black Office Chairs, Cream Office Chairs, Conference Chairs, Executive Office Chairs, Visitors Chairs, Leather Office Chairs, Fabric Office Chairs, Cobham Mesh Office Chairs, Room Dividers, Office Screens, Exhibition Equipment, Av, Screen, Mesh, Cobham, Conference, Cobham Office Chair, Massage Chairs, Glass Workstations, Office Desks, Traditional Chairs, Visitor Chairs, Stacking Chairs, Concertina Screens, Nyloop Screens, Wool Mix Screens, Tripod Projector Screens, Wall Screens, Tub Chairs, Tub Sofas, Draughting Stools, Kneeling Chairs, Designer Chairs, Managers Chairs, Manager, Kensington, Richmond, Knightsbridge, Lombard, Windsor, Henley, Chesterfield Study Chair, Nevada Executive Chair, Baccarat, Torque Office Mesh Chairs, Orbit, Cheetah Office Chair, Panther Office Chair, Marathon, Club Stacking Chairs, Iso Stacking Chair, Essentials Furniture Range, Supreme Furniture Range, Cafe Bistro Chairs, Bistro Tables, Aluminium Chair And Tables, Outdoor Furniture, Office Furniture Online, Padded Office Chair, Padded Office Chairs, Cantilever Chairs, Cantilever Office Chairs,